Juniors and Sophomores,
It is time to choose your courses for the next school year! 
Click below on your current year to see the 2022 – 2023 options, including VHS information for your senior year.
School Guidance Mission
School counselors at GNB Voc-Tech work closely with parents/guardians, staff, and community members to enable all students to reach their full potential and be productive citizens and lifelong learners in a diverse and changing world. To address students' academic, career and social/emotional needs, the school counselors provide a proactive, comprehensive, and developmentally appropriate program to maximize strengths and enable all students to experience a fulfilling high school education and be college and/or career ready upon graduation.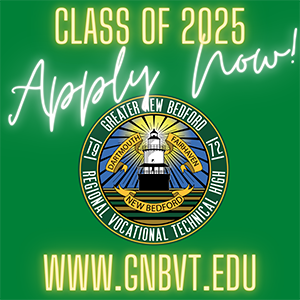 Lucia Garcia Ext. 755 – Receptionist
Stacey DeAlmeida Ext. 779
Suicide Prevention Hotline (Available 24 hours) – 1-800-273-8255
New Bedford Crisis Center – 508.996.3154
Student/Parent Handbook
Exploratory Program/Selection of Permanent Career Majors – Page 14/15
Academic Instruction – Page 13
Career Majors – Page 14
Grading – Page 17
Class Rank – Page 22
Counselor

Grade Level/Division Assignment

CVTE Shop Assignments

Erica Monteiro (x776)

9-1

Exploratory

Michelle Morris (x737) (Portuguese) 

9-2

Exploratory

Rachel Medeiros (x701) (Portuguese/Spanish) 

10-12

Academy A: CR, EC, ES

Kate Correia (x774)

10-12

Academy B: DA, MA, LP, HS

Linda Griffin (x746)

10-12

Academy C: AM, BT, CL, CS

Wadley DaSilva (x771) (Portuguese)

10-12

Academy A & C: DS, HT, PL, IT (IS/PW)

Lauren Michael(x736)

10-12

Academy B & D: CU, ED, MJ, DT (MD/AD)

Tricia Tweedie(x772)

10-12

Academy B & D: DA, EN, ME, SE, VI

As Assigned

 

Jose Botelho (x721) (Portugese/Spanish)

As Assigned

 

Lael St. Tripp (x410)

SAC -As Assigned

Guidance 10-12

Foster Care Point of Contact/Homelessness Advisor

Nikie Iwanczuk (x271)

SAC -As Assigned

 
Trace Rothwell & A

bigail Currier

– Child & Family Services
As Assigned
 
Sandra Poirier (x740) (Portuguese)
Director's Secretary
 
Susanna Dorman (x785) (Spanish)
Guidance Clerk
 
Stacey DeAlmeida (x779) (Portuguese)
Registrar
 
Calendar of Important Events
9th Grade
New Student Orientation (refer to school calendar for date/time).
Parent Portal
Instruction Packet will be provided at parent orientation, please activate the parent and student portal ASAP, as this will allow you to actively be involved in the students progress throughout the school year.
Begin College Applications
Letters of Recommendation for College and Scholarships Registration
FAFSA
Available for Completion (10/1)
Parent Night Meeting (refer to school calendar for date/time)
Progress Report Grade – Trimester I
accessible/viewable through the Parent Portal
Testing
PSAT Test (see PSAT website for test date)
SAT Test (see SAT website for date/time/location)
GNB Voc-Tech College Fair (refer to school calendar for date/time) National Honor Society Induction Ceremony
Trimester I Grades Close
Open House (refer to school calendar for date/time)
November 1st College Deadline
SAT Test (refer to SAT website for date/time/location)
Career Cruising Due Dates
ASVAB – Military Exam
Trimester I – Report Cards
SAT Test (refer to SAT site for date/time/location)
Career Cruising Due Dates
Credit for Life Fair
9th Grade Shop Exploratory
Distribution of 9th Grade Shop Selection Forms (refer to school calendar for date)
Collection of 9th Grade Shop Selection Forms (refer to school calendar for date)
Freshman Shop Placement Letters distributed (refer to school calendar for date)
Progress Report Grades – Trimester II
accessible/viewable through the Parent Portal
Trimester II – Report Cards
SAT Tests (refer to SAT website for date/time/location)
Bristol Community College
Onsite Admissions (sign-ups in Guidance)
Trimester II – Report Cards
MEFA
College Planning Parent Meeting (refer to school calendar for date/time)
Progress Report Grades – Trimester III
accessible/viewable through the Parent Portal
SAT Test (refer to Sat website for date/time/location)
Senior Awards Night (refer to school calendar for date/time)
Senior Sign-Out (refer to school calendar for date)
Trimester III – FINAL Report Card
Student will receive final report card through the mail
Graduation
Forms Available on School Website
College Tour Visits (forms available on school website)
Scholarships (available on school website)
Student Emergency Contact Information (forms available on school website)
Transcripts (requests available on school website)
Attend IEP Teams
Attend 504 Meetings
post-Secondary Planning
Scheduling
Graduation Planning
Awards
Admissions/Registration of Students
Middle School Recruitment
Grade 9 Transition
Family Communication
Assist in Testing Coordination (ASVAB, PSAT, MCAS, SAT, etc.)
Counseling/Crisis Intervention
SAT/PSAT/ACT Registration
Common App Reports
Classroom Lessons
Tracking Grade Progress
MA Model Implementation
Career Cruising
Curriculum Development
College Rep Meetings
College search and preparation
Plans of Remediation
Parent Meetings
Upward Bound Liaison
RAPP Program Liaison
Whaling Museum Apprentice Program Liaison
Useful Resources for Students and Parents