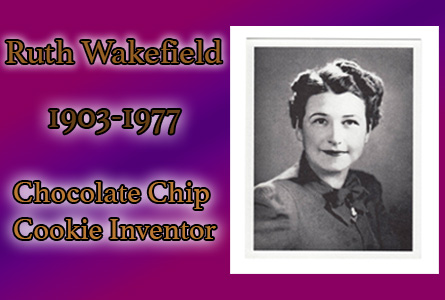 Ruth Wakefield is the creator of chocolate chip cookies. Born on June 17, 1903, Wakefield grew up to be a dietician and food lecturer after graduating from the Framingham State Normal School Department of Household Arts in 1924.
In 1930, Wakefield was mixing a batch of cookies when she found out that she was out of baker's chocolate. She substituted broken pieces of Nestle's semi-sweet chocolate, expecting it to melt to create chocolate cookies. 
That didn't happen, but the surprising result helped to make Ruth Wakefield one of the 20th century's most famous women inventors. When she removed the pan from the oven, Wakefield realized that she had accidentally invented "chocolate chip cookies."
They became extremely popular locally, and the recipe was soon published in a Boston newspaper. Due to this unexpected discovery, the chocolate chip cookie is one of the most popular cookies in America today.
Students in the career major of Culinary Arts in the Legal, Life Science and Services Academy learn all about the techniques and artistry of baking in their studies. The art of baking remains a fundamental skill, and it is important for nutrition, preservation of culture,  therapeutic values, and often brings on pure nostalgia.