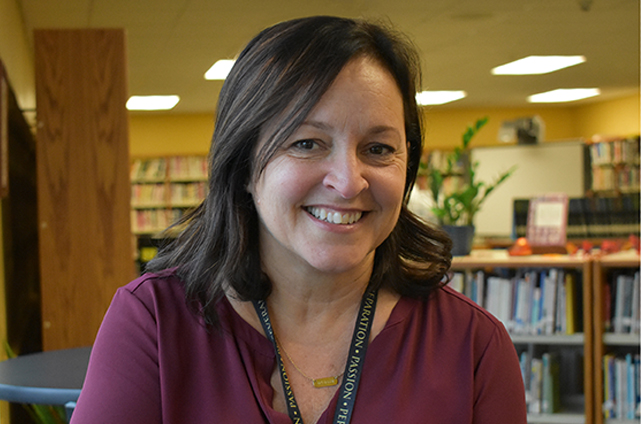 I believe vocational schools prepare students for the future whether it for the workforce or for higher education.
Meet Karen Walsh, our school's Student Activities Assistant.  Mrs. Walsh is in charge of all the actives and scheduling that goes on within our school community and ensures that all events run smoothly.  She is a behind the scenes team player and is always working on making our school a better place. She always liked vocational schools and the idea behind them, so when she found out of the Student Activities Assistant position at GNB Voc-Tech, she knew it was a perfect fit.  
Mrs. Walsh knows how important her job is and her role as school activities assistant requires her to juggle several tasks at once so she knows how important it is to be organized and diligently double checks every detail to make sure everything is right.  Mrs. Walsh's favorite part of her job is the fact that everyday is different and that she is never bored. Her biggest motivation at her work is her family. Mrs. Walsh wants to teach her children by example and believes that we work to live and not live to work.  
If Mrs. Walsh could give advice to her younger self, it would be to travel.  She would have loved to have been able to study abroad and wishes she was more politically aware and active at a younger age.  When Mrs. Walsh is not at work, she enjoys shopping at local businesses and is on various committees in her town. She describes herself as cooperative, compassionate, and strong.  She measures success from positive reviews and the thank you notes from various people and organizations who have held events here at GNBVT. In the past she has worked in hospitality, restaurants, and teaching until she started her career here in 2015 as a sub and 2016 as full time faculty.  Since then, she has been a very important member of our GNBVT family.