Keeping Warm This Colder Season
It's almost winter here in Massachusetts which for a lot means puffy jackets, cold hands, and dreading lugging around those jackets and other gear. Especially carrying this in schools. So if you're anything like me you put on a sweater or two and call it a day. This may work for a little bit but it will only get colder out and that's not fun. So let's talk about it. 
Hats and gloves are a great start to keeping warm they're small enough to fit into your purse or bag so they don't take up to much room. Turtleneck sweaters are pretty great if you don't like scarves It doesn't have to be knit or anything. They have fuzzy ones made from wool to zip-up ones. I'd put another sweater over this one if I were you though because it keeps you warmer. 
Fuzzy socks are also pretty great and inexpensive but also cute. You can find them literally anywhere almost. Or if you want while it can be a bit pricier thick socks for cold days are a good idea and nice warm shoes. If it's snowy out but you don't own boots of any sort try wearing a pair of sneakers that go above the ankle and when treading outside step in footholes people have already walked in. 
If you also really want you can buy hand warmers and keep those in your pockets for when you need them. Buy them in bulk and keep them near your front door to grab when you're on your way out.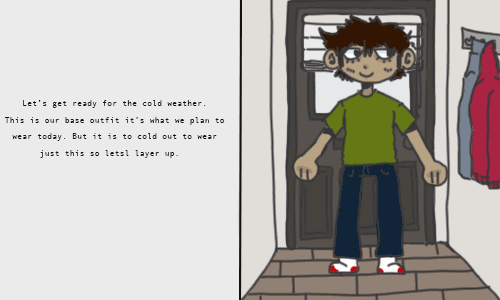 **Notice: All Voc-Tech students who do not have access to coats, gloves, hats, etc are able to go to their guidance counselor and ask for some