The Family Engagement Center and the Nursing Department are partnering with SAVERS for a FunDrive. The FunDrive is to raise money to contribute to Doctors Without Borders. Doctors Without Borders brings medical humanitarian assistance to victims of conflict, natural disasters, epidemics and healthcare exclusion. They are currently expanding their medical and humanitarian efforts in Ukraine and neighboring countries.
As right now, The FEC wants to thank everyone who has donated clothing and household items for the FUNDdrive thus far.
We are off to a great start! Currently we have a total of 32 bags and 4 boxes! We will continue collecting through June 6th, so there is still time to bring in your bags.
Please see the attached flyer for more information about items that are accepted. As a reminder, the items donated will be repurposed within our community AND will generate money which will also be donated. Doctors Without Borders is a remarkable organization whose mission is to provide global medical aid to those in need. Our FUNDrive will be donating all of its proceeds directly to their Emergency Relief Fund so that critical aid can be administered to areas that need it most.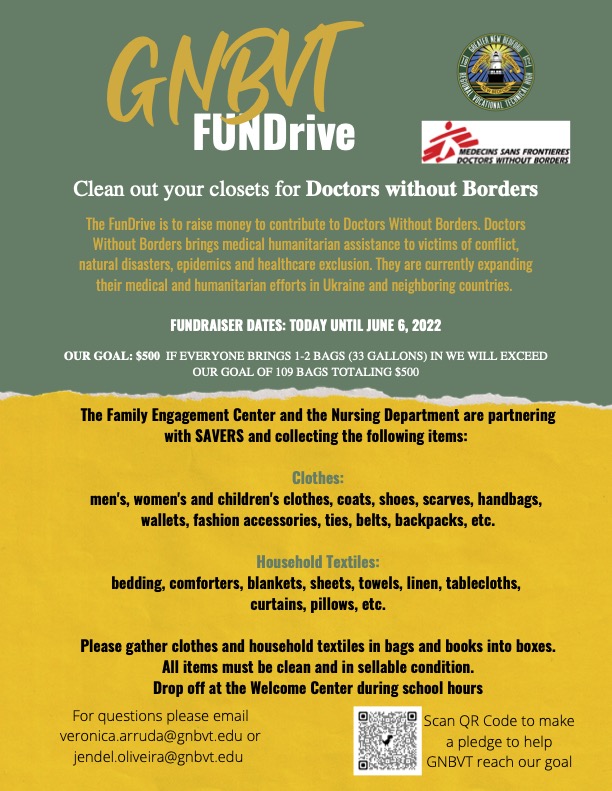 Thanks for all of your continued support! Looking forward to crushing our team's goal of $500!