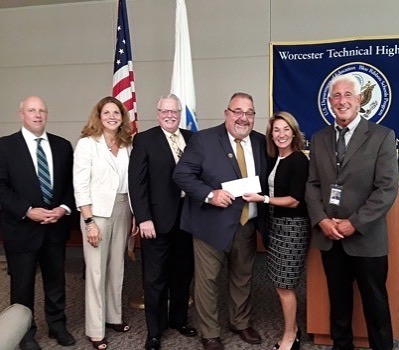 GNB Voc-Tech Welding program receives $300,000 Skills Capital Grant We are excited to announce that the Greater New Bedford Regional Vocational Technical School District (GNB Voc-Tech) announced that the district has received $300,000 through the Baker-Polito Administration Skills Capital Grant program. 
This is the fifth grant that the district has received through this program. The grant will fund industry-level equipment including a HD CNC Plasma Table and Virtual Welding Simulators This grant will benefit the students enrolled in our Welding Technology program, and Marine Technology program, as well as other vocational technical programs throughout the school. 
"We intend to continue our partnership with the regional workforce board to train unemployed, underemployed, and incumbent workers in welding as we have done for several years with this equipment," said Superintendent-Director James L. O'Brien. "Our adult learners in our Technical Institute will also be available to utilize this new welding equipment investment through evening courses as well." 
The Skills Capital Grants awarded by Governor Baker's Workforce Skills Cabinet was created in 2015 and includes the Secretary of Education, Labor and Workforce Development, and Housing and Economic Development. Their mission is to align education, economic development and workforce policies, by strategizing how to meet employers' demand for skilled workers in every region of the state.