BPA Students Participate in National Competition
Thirty-three students from Greater New Bedford Regional Vocational Technical High School attended the Business Professionals of America (BPA) 2019 National Leadership Conference, in Anaheim, CA, May 1-5, 2019. GNB Voc-Tech chapter members joined over 6,000 other conference delegates from across the nation to participate in national level business skills competitions, workshops, general sessions, and national officer candidate campaigns and elections. In addition to having the opportunity to compete on the national stage and learn from leading business professionals, GNB Voc-Tech students had the opportunity to create lifelong memories and experience Anaheim, CA.
"Each year, the National Leadership Conference offers our students the opportunity to showcase their skills and compete against other students from across the country, and be recognized for their dedication and hard work they have put forth through the year," said chapter advisor, Maciel Pais, who teaches Information Support Services and Networking. "These talented students, with the guidance and encouragement of their dedicated instructors, have worked long hours preparing for competition at the state level, maintain- ing a high grade averages, good attendance record, participating in community service, and obtaining several BPA Torch Awards."
Students from Information Support Services and Networking, Computer Information Technology, Programming and Web Development, Medical Assisting, Business Technology, Media Technology and Legal and Protective Services career majors represented the true meaning of a Greater New Bedford Regional Voc-Tech pride through their participation.
BPA acts as a cohesive agent in the nationwide networking of education, business and industry. The mission of BPA is to contribute to the preparation of global professional through the advancement of leadership, citizenship, academic, and technological skills.
GNB Voc-Tech held its twelfth annual 'After Prom' event
The 12th annual After Prom event for the Class of 2019 was held on May 30th, 2019 in the Z. Walter Janiak fieldhouse. Twelve years ago, the commit- tee decided to follow the example of other local high schools by offering the event as a secure, chaperoned, substance-free environment to help students stay safe on prom night.
"Our goal is to continue this annual event with lots of free food, games, entertainment, raffle items, and fun things to do, allowing students to spend time together and create lasting memories," said Jennifer Gaspar, a Media Technology teacher who organizes this event. "The committee's goal is to have enough prizes so that everyone can take home at least one After Prom souvenir."
Chris Medeiros from South Coast Towing donated a Mazda 626 which was raffled off at the event. A veteran donor and former GNB Voc-Tech student, Mr. Medeiros was asked why he donated to After Prom to which he replied, "It encourages people to come to the After Prom, because someone will walk away with a new car and because I was a student here" Medeiros replied. In collaboration with our Collision Repair & Automotive department, the car was repaired and restored in order for it to be ready to raffled off for one special senior, Shania Levasseur.
The After Prom event is supported completely through donations and fund- raising events. The After Prom Committee cannot provide this safe alternative for its students without the generous assistance of families, GNB Voc-Tech faculty, staff, businesses and local organizations.
The After Prom Committee would like to thank all of the families, faculty, staff, businesses and volunteers for their continued support over the years. Check out their facebook page at facebook.com/gnbvtafterprom for upcoming events and opportunities to support.
GNB Voc-Tech Students Participate in SkillsUSANational Championships
Seven competitors along with Dakota Chixarro, the SkillsUSA Massachusetts state President represented Greater New Bedford Regional Vocational Technical High School at the SkillsUSA national championships held in Louisville, Kentucky from June 24 – 28, 2019. The SkillsUSA national conference had over 6000 students competing in over 100 trade and leadership events from all over the nation including Puerto Rico, and the Virgin Islands. In order to make it to the national competition, all contestants had previously won a gold medal in their state competitions to advance to the national competition where they demonstrated expertise in their chosen fields.
Emily Lemieux, Medical Assisting senior, brought home a gold medal. Emily's advisor is Mrs. Pauline O'Brien. Students Gabriela Adorno Barreira, Chelsea Simpkin, and Madison Tavares brought home a silver medal in the Career Pathways Showcase: Human Service competition, with the help of their advisor, Ms. Patricia Allen.
Other national competitors on the trip included: Michaela Barreira, who placed 8th in Early Childhood Education, Ali Silva who placed 9th in Sheet Metal and Ruby Louro, who performed admirably in Extemporaneous Speech. These students demonstrated skill and leadership in their competitions, making our school extremely proud. Accompanying them was Dakota Chixarro, the Massachusetts State President who was also recognized on the field at the Louisville Bats SkillsUSA Night for earning the Presidential Volunteer Service Award – Gold Standard after completing over 300 hours of community service. Greater New Bedford Voc-Tech is proud to have such amazing students representing our career and technical programs on the national stage.
Our competitors celebrating at the state dinner
Many of our GNBVT student competitors celebrate their victories at BPA
GNBVT takes on California at the BPA National Convention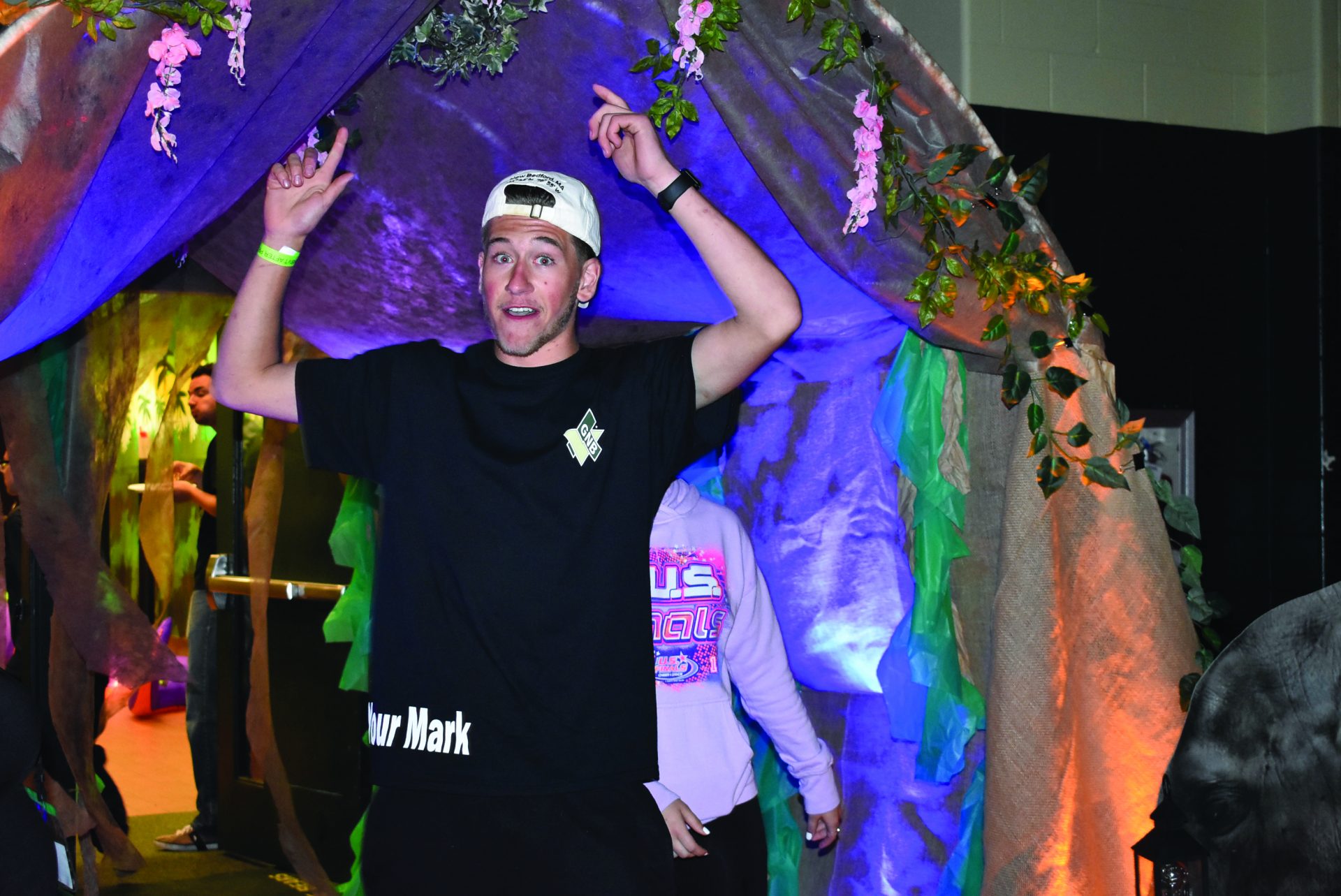 Jacob "Spicy" Lopes enters After Prom ready to party!
Students attending the After Prom event are provided with a safe, substance-free environment to attend on prom night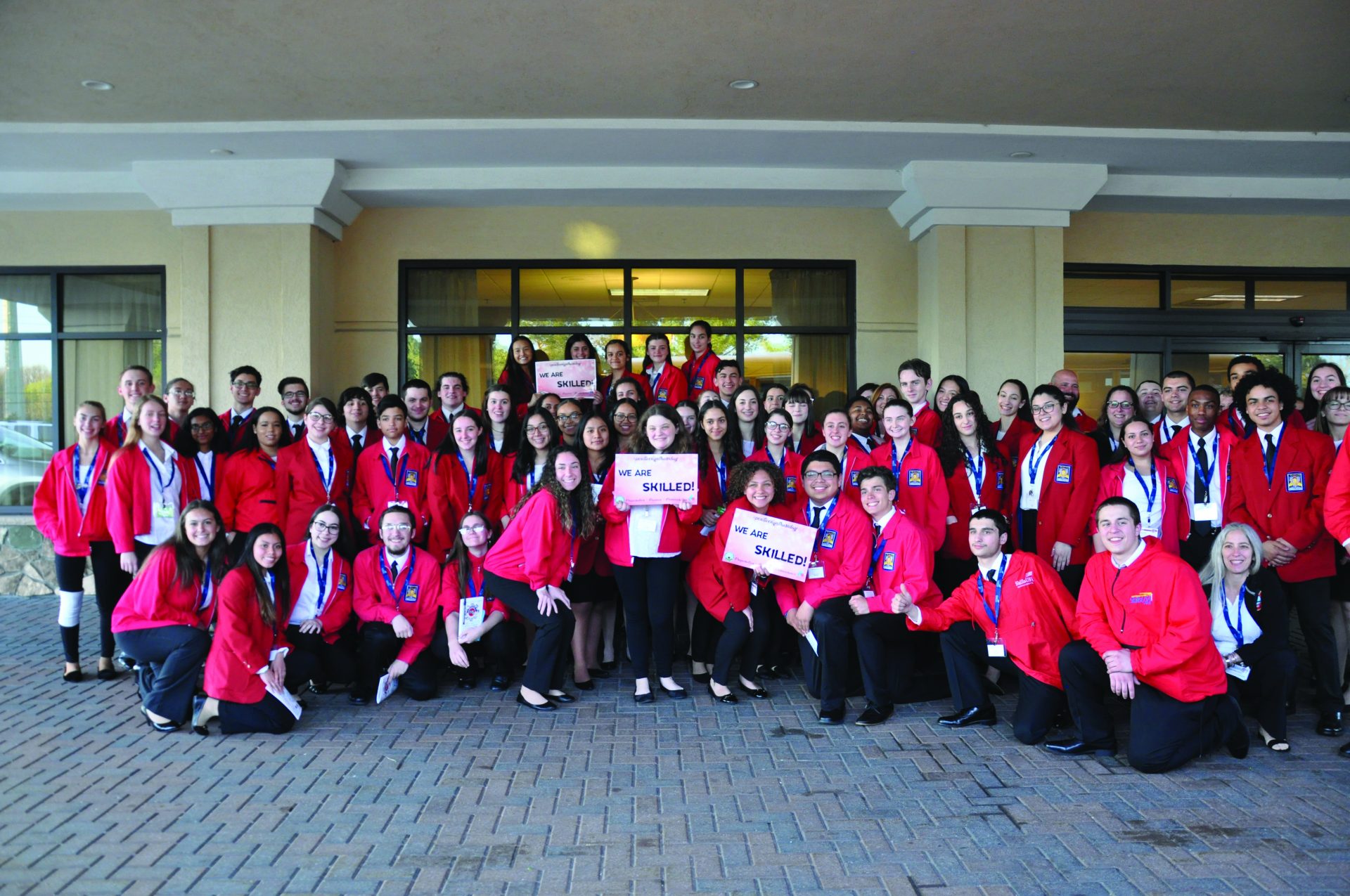 GNBVT's SkillsUSA state competitors gathered before the SkillsUSA Opening ceremonies, 2019
SkillsUSA Massachusetts State competitors show their GNBVT pride during the Opening General Session
Madison Docca, Silver Medalist in Nurse Assisting celebrates her victory on the State stage