Alumni Spotlight: Eric J. Caron
As a Culinary Arts student at Great- er New Bedford Voc-Tech, Mr. Eric J. Caron never imagined that he would eventually become a U.S. Diplomat, Special Agent, and HSBC Middle East Bank Executive. He probably never imagined that he would hold senior positions at Homeland Security and INTERPOL, but as fate would have it, situations in his life formed a path he had never expected to take. What's even more ironic is that he would be back at GNBVT years later presenting his first book, Switched On, to Legal and Protective students.
As a student, Caron initially believed he would find himself in the Culinary Arts field. However, the events in
his life led him to switch his career trajectory. After graduating from GNBVT, he attended Bristol Community College. and then transferred to Northeastern University.
Switched On is about Caron's early life, his desire to honor his father who was a police officer, and "the art of fighting without fighting" which is about protecting oneself without act- ing too hastily. Throughout the book, Caron uses the metaphor of remaining switched on to emphasize the importance of staying alert. The book is also about Caron's struggle with PTSD and the importance of taking care of one's mental and emotional health. Greater New Bedford Voc-Tech is proud to highlight Caron's success story and is grateful that he was able to give back to our school community. Media outlets around the world have celebrated Caron's services. He even received the U.S. Attorney General's Award for his "endeavors in furthering the interest of U.S. National Security."
Alumni Spotlight: Kenzi Pimental
Dr. Kenzi Pimental is a 2012 Greater New Bedford Voc-Tech graduate. Kenzi was in the Medical Assisting Program and was the keynote speaker at the Spring Advisory dinner. Kenzi highlighted how Career and Technical Education has impacted her life and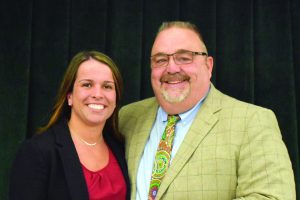 set her up for success in the Pharmacy field. Kenzi attended MCPHS to pursue a degree in their PharmD program and currently holds a residency at the Providence Veterans' Affairs Medical Center in Providence as well as a per diem staff pharmacist at St. Luke's Hospital in New Bedford. In her speech, Kenzi spoke about how her interest in the pharmacy field began with her portfolio which is a graduation requirement for all Voc-Tech seniors. Her portfolio represented of all of her hard work as a student in the Medical Assisting Program and was a tool that allowed her to obtain a co-op position which eventually turned into a part time position while she was completing her degree. While in college, Kenzi excelled in her classes and worked as a mentor and tour guide at MCPHS. She enjoyed connecting with students who came from vocational high schools. Kenzi attributes her success to the foundation she received here at Greater New Bedford Voc-Tech. "GNBVT and all the opportunities it afforded me is where my story began. I would not be where I am today without vocational edu- cation" Kenzi remarked. Kenzi is one of many success stories and is a true testament to the impact that Career and Technical Education has on our students and community.
Machine Technology: Work- force Training
GNB Voc-Tech Institute is proud to announce the expansion of the Advanced Manufacturing/Machine Technology program to include daytime adult learners. This past year, we have had two groups of adult learners that attend our program during the school day. There is an anticipated shortage of qualified skilled tradespersons to meet the demands of the 21st century. Programs designed to train students to meet the perceived needs of the 21st century are vital to local and national security. The Machine Technology / Advanced Manufacturing program is intended to help meet present and future needs. The Machine program provides skill specific occupational and technological education integrated with technical math and related science to prepare students for entry level machinist and CNC employment opportunities to meet the needs of the community. Students completing the course will be prepared for career paths which include master machinist, CNC machine operation, CadCam design, mold making, die making, engineer- ing technician, mechanical engineer- ing, and many other mechanically oriented professions.
The Machine Technology/Advanced Manufacturing program provides instruction in: Basic Machining Principles, Advanced Machining Principles, Mastercam CadCam part design, Part Posting and Downloading to CNC equipment, as well as hand sketching and basic blueprints. Students utilize a variety of precision instruments to verify conformance to customer requirements including instruction in the use of micrometers, dial, digital and Vernier calipers, and dial indi- cators. Training takes place over 90 six and one half hour days for a total training time of 585 hours. Students successfully completing the instructional program will be prepared for entry level CNC jobs as well as post secondary programs.
GNB Voc-Tech Institute End of Year Report
GNB Voc-Tech Institute offers training in licensed and non-licensed trades, and enrichment courses including special interests, languages, and art. In each of our semesters, students are able to choose from over 80 cours- es. Our faculty includes many of the skilled, licensed teachers from our day programs as well as some great experts from our community.
Enrichment classes give students an opportunity to improve themselves through hobbies, health, and art. These practical arts classes include painting, cooking, cake decorating, quilting, knitting, upholstery, yoga, and self-defense. Language courses, help students to communicate in personal and business settings. The pro- gram offers beginning and advanced instruction in Portuguese, Spanish, and American Sign Language.
The GNB Voc-Tech Institute takes advantage of the school's state-of-the-art facility by offering courses in our technical areas, such as carpentry, welding, automotive, and machine shop. We also offer computer class- es in many different areas including digital photography, AutoCAD, and Microsoft Office.
The school also offers several courses that are required for licensing in various trades. Our Adult Education Program is an approved site for class- es with the MA State Board of Electricians, MA State Board of Plumbers and Gas Fitters, MA Board of Building Regulations and Standards, and MA State Board of Steam Engineers. We also provide certification for National Restaurant Association Serve-Safe, American Society of Phlebotomy Technicians, and OSHA Construction and Safety. In addition, we offer class- es in health fields such as Ophthalmic Assistant and Pharmacy Technician.
GNB Voc-Tech has teamed up with GNB MASSHIRE to train 12 Adults in Advanced Manufacturing during the day from 8:00 – 2:30 for 90 days. Several students already have secured jobs in the field. A second group
of adults will begin in Late January. The Machine Technology/Advanced Manufacturing program provides instruction in: Basic Machining Principles, Advanced Machining Principles, Mastercam CADCAM part design, part posting and downloading to CNC equipment, as well as hand sketching and basic blueprints.
In 2018, The GNB Voc-Tech Institute serviced a total of 1,432 students. We had 433 students taking classes in the Winter with an additional 316 in the Spring. 594 students took classes in the Fall with an additional 56 in the Fall extension and 33 students trying our new Workshops.